– Grand Prize Winner –
Memphis by Tara Stringfellow
Former attorney, Northwestern University MFA graduate, and Pushcart Prize nominee Tara Stringfellow's debut novel Memphis is a multi-generational novel based on the author's rich Civil Rights history. Tracing the effects of violence on the family after the family patriarch, the first black homicide detective in Memphis, is lynched by the members of his own squad, the novel is a celebration of the bonds of family and the strength of matriarchy. Dial Press, an imprint of Penguin Random House, acquired the book at auction by Soumeya Bendimerad Roberts at HG Literary, with UK rights to John Murray Press. The novel is scheduled for a Spring 2021 release.
Third World Press published her first collection of poetry entitled More than Dancing in 2008. Nominated for two Pushcart Prizes, her poems have appeared, or are forthcoming, in Collective Unrest, Best Emerging Poets of Illinois, Best of the Net Anthology, Jet Fuel Review, Minerva Rising, Women's Arts Quarterly, and Apogee Journal, among others. A cross-genre artist, the author was Northwestern University's first MFA graduate in both poetry and prose. She splits her time between Italy, Brooklyn, and Memphis.
From Book Pipeline: "Potentially epic (by all definitions) as a TV series. A story merging fiction and the family history of the author positions the material for a deeply personal narrative that can easily be shaped to suit the conventions—and then break the conventions—of the film or TV market. This dynamic is perhaps what helps bring a distinct sense of authenticity to Tara's voice and perspective. While we must primarily view the material through the lens of a producer or showrunner, the prose in Memphis cannot be overlooked–this is the work of a true storyteller. Such command over one's narrative comes along only once every so often. Tara Stringfellow is an author to watch for in years to come."
Follow on: Twitter | Instagram
– Runner-up –
Drive by Susan Strecker
Susan Strecker is the award-winning author of three novels. Her first, Night Blindness, about a young woman coming to terms with the sins of her past and family secrets was named an IndieNext pick in 2014 and called "up all night reading at its best" (Bestselling author, Susan Wiggs). Two years later, came her "compulsively readable" (Kirkus Reviews) second novel, Nowhere Girl, about an identical twin who has been consumed for the past eighteen years with hunting her sister's killer. Strecker's novels focus on strong family bonds and how loss affects people so differently. That theme was continued in her third novel, Drive, which follows the life of would-be super star racecar driver, Piper Pierson. It is a story of love and loss and what it takes for Piper to find her way back to the life she once loved.
Strecker drew on her family's experience owning a NASCAR team from the early '80s to the mid-90s while writing Drive. The team, Moroso Racing, was among one of the most successful of its time with its driver, Rob Moroso (Strecker's brother) being the youngest driver in history (at the time) to win the Busch Grand National Championship and many other awards such as Rookie of the Year, Most Popular Driver and Most Poles Won.
She is currently working on her fourth and fifth novels. The fourth follows a woman's path to redemption among her family and friends, despite making a horrible mistake in her early twenties and fifth is a dark thriller that explores the warped psyche of a stalker and his victim who may be an unwitting accomplice in her downfall. In addition to writing, she teaches more than thirty writing and editing workshops a year and is a member of six non-profit boards. She lives in Connecticut with her husband and two kids. Her happiest times are spent taking care of ponies and watching lacrosse games.
Follow on: Twitter
– Finalists –
Cuddlebug by Jenna-Marie Warnecke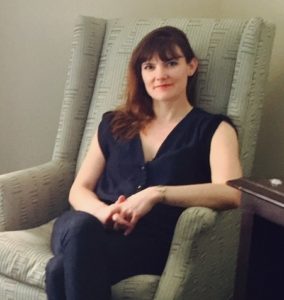 Jenna-Marie Warnecke's short story "Cuddlebug" tells the story of Michael, a professional cuddler who spreads good vibes and loving kindness to his clients in the gig economy of New York City. Deeply troubled by a hidden physical deformity, sensitive Michael seeks fulfillment and an antidote to his own profound insecurities through the daily exchange of corporal closeness that he shares with his clients. Michael's clientele reflects the diversity of New York itself: from a recently widowed elderly woman to a gruff Queens policeman, from a dancer whose one-night stand won't snuggle after sex to a traumatized veteran. However, this career of compassion takes its toll on Michael: as he emotionally depletes himself giving comfort to his customers, he realizes that true intimacy is hard to find, harder to sell, and, once tapped, impossible to control. The story was published in Issue 14 of Tahoma Literary Review.
Warnecke's fiction, poetry, and essays have appeared in publications in print and online including Tahoma Literary Review, F(r)iction, the Washington Square Review, Narratively, and the Hairpin. A nominee for the 2017 Best New Poets anthology, Warnecke's work explores the complications of intimacy and agency, particularly those gained through trauma, and the detriments of getting what one most ardently wishes for. She lives in New York City.  
Follow on: Twitter
Missing Her by J.L. Willow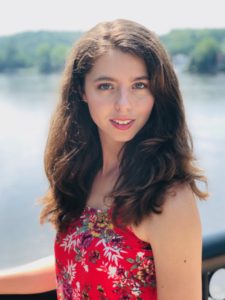 J. L. Willow voraciously read everything she could get her hands on as a child and continues to this day. She was inspired by the way words on a page could capture the imagination, beginning her journey as a writer at just six years old. When she's not holding a pencil or a book, she can be found belting her favorite musicals or studying to become a mechanical engineer. Willow's first novel, The Scavenger, is a young adult coming of age novel that was published when she was just a junior in high school. Her paranormal thriller, Missing Her, was published at the end of her senior year and follows the disappearance of a teenage girl named Eliza. 
For her second novel, Willow drew inspiration from her expansive knowledge of horror books and films to craft something dark of her own. She wanted to turn the classic "missing person" story on its head and create something readers had never experienced before. After much time spent detailing the plot's countless twists and turns, Missing Her was brought to life. It's been putting readers on the edge of their seats ever since. 
Willow is currently working on a collection of short horror stories with an expected release of 2021. What few days off she has are spent relaxing with her family in New Jersey or day-dreaming about her next story.
Follow on: Twitter | Instagram | YouTube
– Semifinalists –
Killing Williamsburg by Bradley Spinelli
The Black Bottom by Theo Czuk
The Girl who Gave Birth to a Cat by Nina Varsava
Train in Vain by Thomas Sabino