– Grand Prize Winner: Greg Edwards & Andy Sandberg –
Application Pending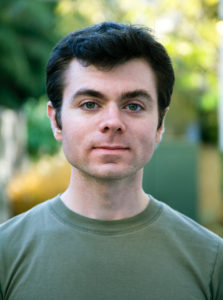 GREG EDWARDS wrote the scripts for Application Pending (Off-Broadway, Drama Desk nomination) and Craving for Travel (Off-Broadway), both co-authored with Andy Sandberg, lyrics for Neurosis: A New Musical (Merry-Go-Round Playhouse, SALT Award for Best New Musical), and book and lyrics for Evelyn Shaffer and the Chance of a Lifetime (City Theatre, Samuel French OOB Festival winner, Take a Ten Musicals), Taking the Plunge (Samuel French OOB Festival, NYMF), and The Almost In-Laws (Take a Ten Musicals). He has collaborated with Marvin Hamlisch (White House Governors' Dinner, Mr. Hamlisch's holiday tour) and Arthur Laurents (Love Affair). Greg's essays are published in Avidly (Los Angeles Review of Books) and McSweeney's, and his game Jessica Plunkenstein and the Dusseldorf Conspiracy (NYT "Best Adventure Game of the Year") was published by PC Gamer UK. Honors and approximations thereof include the BMI Harrington Award, the Fred Ebb Award (two-time finalist), and a Nickelodeon Writing Fellowship (top-12 semifinalist). Greg graduated Phi Beta Kappa from Yale, belongs to the BMI Workshop and Dramatists Guild Fellows, and can be stalked most effectively at www.greged.com.
ANDY SANDBERG is a writer, director, actor, and Tony Award-winning producer. He ha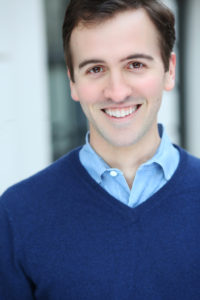 s written the scripts for Application Pending and Craving for Travel (co-authored with Greg Edwards), and he directed their world premieres Off-Broadway. Application Pending received the BroadwayWorld Award for Best Off-Broadway Play and a Drama Desk Award nomination for Outstanding Solo Show. He recently directed the world premiere of Straight, which was named a Critics' Pick by The New York Times. Other directing credits include the world premieres of Operation Epsilon (Four IRNE Awards, including Best Play, Best Director), Shida (AUDELCO nominations, Best Director and Best Musical; Ars Nova / A.R.T.) and The Last Smoker in America (Westside Theatre). Upcoming: Sacrilegious, by Academy Award winner Tom Schulman, and Night for Day, by Academy Award nominee Nicholas Kazan. He has been represented on Broadway as a producer of HAIR (2009 Tony Award; also London's West End), The Best Man (2012 Tony nomination), and The Realistic Joneses. Also as producer: A Perfect Future (Off-Broadway); Hal Prince's Paradise Found (London); and Pageant (Drama Desk nomination – Best Revival). B.A. Yale University. Sandberg is a proud member of the Stage Directors and Choreographers Society, Actors' Equity Association, and the Off-Broadway League. He currently sits on the boards of the Yale Dramatic Association, the Whiffenpoof Alumni Association, and the Browning School (NYC). He is President of both the Browning Alumni Association and the Yale Alley Cats Alumni Organization. AndySandberg.com / @Andy_Sandberg
From Book Pipeline: "Timely, wonderfully crafted comedy serving as a sort of low-key commentary on the pressures of giving our children a scholastic advantage no matter the cost or sacrifice–and the lunacy that comes with it. Although one needn't read between lines to see the point. Seemingly hyperbolic yet entirely grounded. As a play, it's a single-actress, rapid-fire comedy (and wow, what an actress it would take to juggle a variety of characters besides the lead. . . .). As a potential TV series, lots of promise to slide into a landscape ripe for this type of timeless humor and original setting. All-around wonderful piece helmed by two experienced writers who'd fit nicely into the world of film and TV."
---
– Finalists (3) –
Sarah Lawrence has a variety of theater projects in the works. Duende: Recuerdos de Flamenco, a full-length drama about the ancient Spanish art form, recently placed as a top-five finalist in the Julie Harris/Neil Simon Competition. It was selected in September, 2016, by the Good to Go Festival organization for a residency in Vermont and now advances to New York for a workshop at the Prospect Theater in the fall of 2017. Bibo and Bertie was named a Winner in the 2016 Writer's Digest Competition and was chosen by the National Winter Playwriting Residency in January of 2017 for further development. Bibo and Bertie, a drama about the last year of Albert Einstein's life, is scheduled for a premier production in Tampa, Florida next season. She is also working with two Dallas-based composers on Yellow Rose, a Big-Ass Texas Musical about the life of Emily West who some same was responsible for the Texas victory over Mexico in its war of independence in 1836.
Her most recently produced play was All Ye Who Enter Here which ran in 2014 at the historic off-Broadway Soho Playhouse in New York. Her first play, Liberty, was the recipient of the Southern Playwrights'Award. As such, it was awarded a full production at the Kennedy Center. Liberty was just announced as a finalist in the Book Pipeline Competition, a national search for plays suited to adaptation to the screen.
Lawrence wrote six plays in the 1990s and enjoyed some early success, including winning a national comedy contest with her send-up of Elvis worship, The King and Me. In Dallas, she founded and served as Executive Director of the Playwrights Project, a regional play development organization. Lawrence is also the author of several nonfiction books and articles, including Entrepreneurship: Building the American Dream (West Educational Publishing, 1994) and 50 Great Business Ideas for Teens (Simon & Schuster/Arco, 1990 & 1997).
Two years ago, she embarked on an MFA program, Writing for Stage and Screen, at the New Hampshire Institute of Arts, graduating in 2016. During that time, she completed four full-length works: Yellow Rose, The Legend of Emily West; A More Perfect Union—an adaptation for the screen of her play Liberty; Duende:Recuerdos de Flamenco; and most recently Bibo & Bertie.
Stay Younger Longer by Ryan Hyatt
Ryan Hyatt was born in Tucson in 1976 and spent his twenties bouncing between jobs in Arizona and California, serving as staff writer for publications such as The Apache Junction Independent and Santa Monica Daily Press.
The Death of Rock and Roll (2007), Ryan's debut novel, is a modern western that chronicles a love triangle between an up-and-coming guitarist, a jealous psychopath and their muse.
More recent novels include Stay Younger Longer (2015) and Rise of the Liberators (2017), science fiction thrillers that are part of Ryan's Terrafide series, techy tales of woe and hope in which characters grapple with the economic and environmental realities of a world falling apart.
Stay Younger Longer centers around Dick White, a 28-year-old Los Angeles bachelor and journalist, who is put in peril after he learns a popular anti-aging drug called Euphoria is a biological weapon, leaving Dick to find the eccentric criminal who has developed a cure that might save countless lives, including his own.
Currently, Ryan holds a master's degree in special education with a focus on K-12 literacy issues. He lives with his wife and daughter in Los Angeles, where he teaches English to high school students with learning challenges.
For more updates on the state of the future, visit Ryan's satirical science fiction news site, thelalalander.com.
The Price of Admission by Laura Kalpakian
Laura Kalpakian is the author of sixteen novels, two novellas and four collections of short fiction published in the US and the UK. Her many stories and memoir essays have been published in British and American magazines and literary quarterlies.
Her work has been accorded a National Endowment for the Arts Fellowship, a Pushcart Prize, the PEN West Award for Short Fiction, the Anahid Award for an American writer of Armenian descent and the Pacific Northwest Booksellers' Award. Her 2007 novel, American Cookery was nominated for the International IMPAC Dublin Literary Award.
A native Californian, Laura was educated on both the west coast and the east coast. She has a Masters in History, and she studied in the Literature program at University of California, San Diego. Combining history, literature and writing, she has taught Memory in Memoir at the University of Washington and other places. She has a long fascination with theatrical history, film and music.
The Price of Admission is a novel of loyalties, secrets and betrayals set in 1950's Hollywood amid the stars who glittered in the heavens, and the directors, producers and studio chiefs who made their lives hell. Anyone tarred with the Red brush is blacklisted; careers are wrecked, and aspirations turn to desperation. It will be a Berkeley book in 2018.
Laura lives in Northwest Washington. Her website can be found here: http://laurakalpakian.com.
---
– Semifinalists (6) –
Fluke by Martin Blinder
Jin Village by Vincent Stoia
Nightingale by Andrea Bramhall
The Black Lens by Christopher Stollar
The Karma Booth by Jeff Pearce
The Shooter Act by Turner Tomlinson