– Grand Prize Winner: Zach Fortier –

Zach Fortier was a police officer for over 30 years, specializing in K-9, SWAT, gang, domestic violence, and sex crimes as an investigator. He has written five books about police work. Curbchek, the first book, is a case-by-case account of the streets, as he worked them from the start of his 30 career. Streetcreds details the time Zach spent in a gang task force and the cases that occurred. The third book is by far the most gritty: Curbchek-Reload, where Zach is damaged–and dangerously so, suffering from PTSD and the day-to-day violence of working the street. Hero To Zero is Zach's fourth book and recalls cops he worked with that were incredibly talented but ended up going down in flames–some ended up in jail, prison, and one on the FBI's ten most wanted list. Released in 2014, Landed On Black covers the constant state of hyper-vigilance required to survive the double crosses and betrayals that occurred on the streets and in the police department.
In the biography I am Raymond Washington, Zach offers an unprecedented illustration of the original founder of the Crips gang. Filled with eyewitness accounts and recollections from friends and family, a complete portrayal is presented of this still enigmatic figure. In addition to winning Book Pipeline, I am Raymond Washington has garnered numerous awards:
– Bronze medal, 2015 IPPY Awards
– Finalist, 2015 IAN Book Awards (both General Non-Fiction and Bio/Memoir categories)
– Bronze medal, 2015 Readers Favorite International Book Awards
– Finalist, 2015 Kindle Book Awards
– Finalist, 2015 USA Today Book Awards
From Book Pipeline: "It can be difficult to strike an unbiased balance when profiling any polarizing individual, let alone one as enigmatic as Raymond Washington, a still lesser-known figure even amongst those familiar with the Crips/Bloods rivalry and the Los Angeles gang landscape from the 60s to the present day. For a former police officer to remain impartial and extract the truth behind one of the country's most notorious gang leaders? Difficult, indeed.
But Zach Fortier's exploration into the life and evolution of Raymond Washington considers a number of angles, theories, and stories from the men who witnessed firsthand the formation of the Crips and the true persona of a man most now acknowledge as the real founder of the Crips. The result is a truly compelling narrative. Part biography on Raymond, part exposé into the culture and origins of gang life, Fortier neither glorifies nor vilifies Raymond Washington or his counterparts. As someone with so many years of direct experience working with gangs, Fortier poses a running question here far bigger than Raymond Washington alone: what compels someone to start, join, and stay in an organized gang? What is it about the lifestyle that continues to draw in thousands of young people worldwide every year? Educated assumptions are made by Fortier, but he's careful not to paint this portrait in black and white.
In its own way, Raymond's legendary status is the stuff of Godfather-esque proportions on a smaller scale (arguably. . .), yet no less significant in the evolution of urban America. It's a story relatively limited in scope (Raymond was killed at 25), but broad in social implication—and as such, it's one with documentary, scripted TV series, and feature film possibilities. A grounded Shakespearian epic taking place in a small collection of neighborhoods in Los Angeles, ripe for adaptation."
---
– Finalists (6) –
Executive Outcomes by Nick Bicanic
Nick Bicanic is a filmmaker and a technologist who mixes left brain and right brain stuff on an ongoing basis.
Charming if desired–rude and cutting if required–Nick is equally at home on an MMA fighting mat, a unix command prompt, a mast-high crushing north swell, behind the controls of a helicopter, convincing a board about strategic changes of direction, field-stripping a SIG 552 Commando blindfolded, or inventing new paradigms in mobile phone user interface design.
He wrote, directed, and produced the 4-time LEO award-winning documentary Shadow Company, a unique insight into the secret world of modern day soldiers for hire. It was critically acclaimed and resulted in multiple media appearances including ABC, NBC, CBS, Al-Jazeera, Fox News, and a testimony in front of US Congress as a subject matter expert on the usage of mercenaries in modern warfare.
More recently, he produced The War Against Boko Haram for VICE News and published his first book, Executive Outcomes, a graphic novel based on his script of the same name.
He is also a serial entrepreneur and is considered one of the best mobile product visionaries in Silicon Valley. He has raised money from Silicon Valley luminaries including Google Ventures and has spent the last four years running multiple teams developing consumer mobile apps on all mobile phone platforms.
Nick is currently a founder at RVLVR, a unique new VR/AR storytelling company.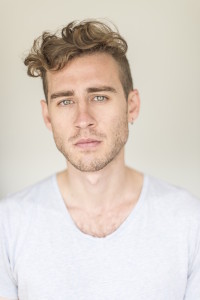 A Fistful of Clones by Seaton Kay-Smith
With television writing credits including ABC's Good Game and The Roast, as well as the latest season of You're Skitting Me, Seaton Kay-Smith has written for A Rational Fear and Backchat on FBi Radio and performed stand-up comedy at Sydney Fringe (2012-2014), Adelaide Fringe (2013), and Sydney Comedy Festival (2013-2015). He also appeared on season 7 of Australia's Got Talent in 2013.
In 2014, he wrote, produced, and performed in Lost Pilots, a comedy radio series on FBi. And in 2015 his debut novel, A Fistful of Clones, was published by Harper Collins.
He was selected as one of six emerging writers to attend the Screen Australia funded Deadlock Script Lab, and along with Nick Hunter was a finalist in the NSW Creative Achievement Awards.
Lamplighters by Frazer Lee
Frazer Lee is a novelist, screenwriter, and filmmaker.
His debut novel The Lamplighters was a Bram Stoker Award Finalist for 'Superior Achievement in a First Novel'. Frazer's other published works include the Amazon #1 horror/thriller Panic Button: The Official Movie Novelisation, novels The Jack in the Green and The Skintaker, and the Daniel Gates Adventures series of novellas.
Frazer's screenplay credits include the acclaimed horror/thriller feature Panic Button, and multi-award winning short films On Edge, Red Lines, Simone, and The Stay. Frazer's screenwriting and story consultant engagements have included commissions for Movie Mogul, Mediente, eMotion, and Vanquish Alliance Entertainment.
His film and television directing credits include the multi award-winning shorts On Edge and Red Lines, and the promo campaign for the Discovery Channel series True Horror With Anthony Head. His latest short film The Stay had its World Premiere at World Horror Con Atlanta USA 2015 and was awarded Best Atmosphere at the Independent Horror Movie Awards in October of that year. Frazer was named one of the Top 12 UK film directors in the MySpace.com Movie Mash-up contest by a panel including representatives from 20th Century Fox, Vertigo Films, and Film Four.
Frazer lectures in Creative Writing and Screenwriting at Brunel University London and Birkbeck, University of London and is an active member of the Horror Writers Association and International Thriller Writers. His guest speaking engagements have included The London Screenwriters Festival and The Guerilla Filmmakers Masterclass. Frazer Lee lives with his family in Buckinghamshire, England just across the cemetery from the actual Hammer House of Horror.
Official website | Facebook | Twitter
Frank D'Angeli's (aka Douglas Wentworth) first writing effort was a spec screenplay that was purchased for the television series Columbo, making it only the second spec script ever purchased in Columbo's 35-year history. Frank's debut novel, Stranded, in addition to placing as a finalist in Book Pipeline, was the gold medal winner in the sci-fi/fantasy category in the 2012 Independent Publishers Book Awards. The Stranded screenplay, co-written with David Hogan, was a finalist in the 2015 Script Pipeline First Look Contest. Frank's second novel, CarnEvil, was also a finalist in the 2014 Book Pipeline Competition. The novel and the associated screenplay is in development with New England Capitol Pictures. His horror short story, The Tower, was awarded top honors in the 2015 Saugus.net Halloween Horror Contest.
Frank lives in Massachusetts with his wife and two dogs.
The Dress Thief by Natalie Meg Evans
Natalie Meg Evans (The Dress Thief) has been an art student, actor, PR copywriter, book-keeper and bartender. She is the author of three published novels which take as their starting point the turmoil of the late 1930s and World War Two and focus on the personal struggles of individuals caught up in these times. Though her writing occupies the commercial centre-ground, Natalie holds to the view that historical fiction can offer us a distant reflection of ourselves. Through history, we can view our current social crises from a clearer perspective. If that sounds overly earnest, each novel delves behind the scenes of a prestige industry: high fashion, millinery, wine making—rich arenas of human conflict!
Brought up in the UK, and presently living in rural Suffolk where she writes full time, Natalie was born in Zimbabwe, then Southern Rhodesia, to a mechanic father and a teacher mother. Her mother's love of all things French made a deep impression, as did a spell in Paris at a formative age. Her first two books are set in that city.
The Dress Thief was shortlisted for a Romance Writers of America Rita© award in 2015 and won the UK's Festival of Romance readers' prize for 'The best historical'. The Milliner's Secret was shortlisted for 'Best Historical novel' in the UK's Love Stories awards. She won the Harry Bowling Prize (2012) and gained first place in the USA's Houston Emily awards for historical fiction. In 2012 she was a finalist for a Romance Writers of America Golden Heart©. She also picked up a nomination for the coveted Daphne du Maurier award. Natalie was long-listed for BBC Radio's 'Opening Lines' short story call, and for the Mslexia 'New Novel award.' The Dress Thief was voted 'Best Foreign Novel' in the Greek Public Book awards. Find The Dress Thief here.
The Wet Woman by Alejandra Mattoni
Alejandra Diaz Mattoni lives and works in Los Angeles. She has a master's degree in comparative literature and graduated from seminary a few years back. Her work has appeared in Gawker and The Morning News. The Wet Woman is her debut novel and is available on Amazon.
 Alejandra is currently working on a screenplay about a Lebanese girl determined to play water polo, a young adult novel, and various short stories. When she's not reading, her favorite way to relax is to put up her feet and write.
---
– Semifinalists / Honorable Mentions (5) –
Do Not Resuscitate by Nicholas Ponticello
Jubilee by Jennifer Givhan
Just a Theory by Annie Wood
Monsterland by Michael Phillip Cash
The Virus by Janelle Diller